Are you searching for tips for painting cabinets? You may consider using some paint to freshen up your kitchen during any holiday season to make your home feel welcoming and clean.
Most people take added steps like hiring a cleaning company and gardener to make sure their home is presentable when their company arrives. Brightening your space for a holiday through decor and paint is also an option.
A great way to do this and complete a home improvement project is by giving your home's interior a new paint job to boost and compliment any holiday aesthetic.
Table of Contents
Celebrate the Season with Newly Painted Cabinets
Whenever you have guests, there is one space where most of the action will take place: the kitchen. The kitchen is often the home's heartbeat, where families and friends gather to eat, drink and spend quality time together.
You may not realize it, but kitchen cabinets get grungy. Your kitchen cabinets could probably use a facelift between the fingerprints, grease splatters, and food stains.
Painting your kitchen cabinets, rather than replacing them, is a great way to upgrade your kitchen without spending a lot of money.

Tips on Choosing Cabinet Colors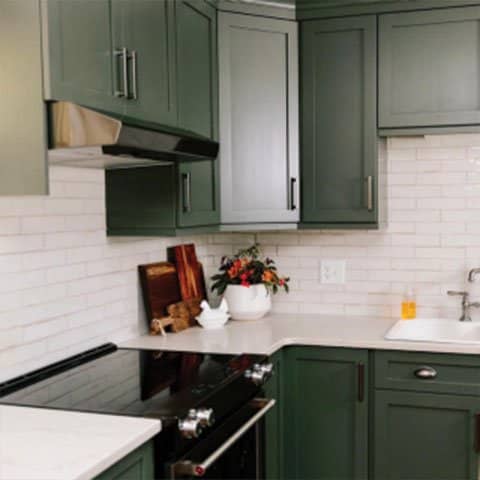 You can bring your kitchen back to life just in time for all that cooking, celebrating, and eating. Not only that, but a fresh look will update your home's value, giving you something to cheer about heading into the New Year.
But choosing the best paint color for your kitchen cabinets can be difficult. There are many great colors, but you must keep your home in mind when deciding which suits you.
Want to get the most out of painting your kitchen cabinets?
Here are some tips for painting cabinets.

1. Keep Decor in Mind when Choosing a Color Palette
If you're prepping for the holidays, the odds are good you'll be using decorations to fill your home. Keep the colors and shapes of your decorations in mind when choosing your paint color for the kitchen cabinets.
This will ensure that your overall aesthetic stays excellent and complementary to your interior room colors.

2. Light Neutrals
When it comes to cabinet painting colors, white is timeless, which means you'll be happy with your selection years down the line.
It's open and inviting, making a small kitchen space seem larger. It also provides a neutral backdrop against bold holiday decorating choices in your kitchen.
White cabinets, or those painted in other light-colored neutral tones, such as cream or light gray, will complement all your holiday decor.
After the holidays, these colors will also work well with any wall paint colors or backsplash you already have in your kitchen.

3. Bold and Bright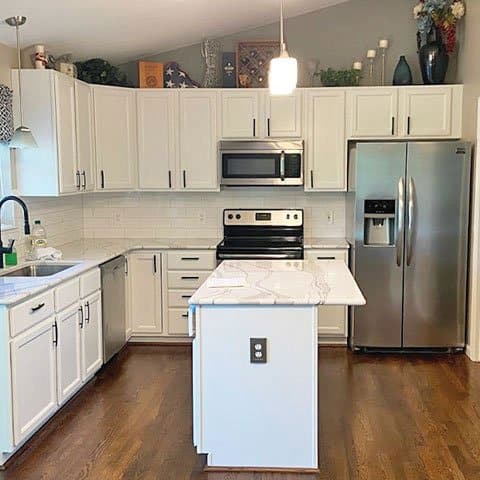 If you want to make a more positive statement during the holiday season and throughout the year, a cottage blue, sage green, or buttery yellow will set your kitchen apart.
Your holiday get-togethers and parties will be memorable with these paint colors.
You can also use the wall color of your kitchen to find a festive accent color for the cabinets that you'll be happy with long-term.

4. Black and White
It might seem like a bold combination of colors for kitchen cabinets, but black-and-white is becoming a mainstream color combo in the kitchen.
The secret in painting kitchen cabinets white or black is in the high contrast, which adds a wow factor to even the most basic kitchens.
To pull off the look, maintain an equal balance between the two hues, with black cladding the lower cabinetry and island and bright whites reserved for the kitchen's upper half.
They add warm woods to the mix, toning down the color duo's modern vibe.

5. Let Your Cabinets Be the Accent
If you have a large kitchen and don't want to paint the entire room, paint the kitchen cabinets instead of an accent wall.
A new color on kitchen cabinets offers a visual appeal and leaves the remaining walls open to be painted down the road.

Essential Tips for Painting Cabinets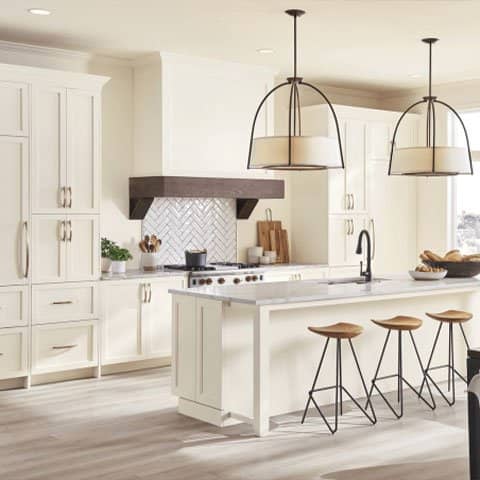 Trying to do a project of this size can take time and effort. But there are some tips for painting kitchen cabinets that can make the process go a little smoother.
Wood is the Best Painting Surface – Whether unfinished, painted, or stained, wood doesn't matter. And although painting other materials, like laminate, is possible, it won't be long-lasting. Remember that stained wood or glossy finishes must be de-glossed before taking the next steps in cabinet painting.
Prep is Important – There are a lot of necessary steps when prepping an area to paint your cabinets. You will want to remove and label all the hardware, tape off paint-free regions, and use wood filler to fill holes and imperfections. Covering or removing other items in the area is essential to ensure that nothing gets splattered by paint or damaged—sand all the cabinets, including the cabinet door edges. If the paint is so thick that it looks like crocodile skin, you should consider stripping it before sanding.
Primer is a Necessity – No, the all-in-one primer you are thinking about does not count. When deciding how to paint cabinets, include a stand-alone primer. The latex-oil combo is a good choice for primer and paint. If painting your cabinets lighter than before, you may want to tint the primer to match the final color. Remember that once your base coat of primer dries, you will need to lightly sand the cabinets all over again.
Use Quality Paint – Quality paint will give you better coverage and longer-lasting results. In reality, good quality paint will result in you using less paint both now and in the future. And know that with cabinets, a minimum of two coats of paint is a must, regardless of the color you are using.
Sound like a lot of work to paint your cabinets? That's because it can be. Many steps and techniques are necessary to make your cabinet painting project look professional.
It's easy to get caught up in the to-dos, makes multiple runs to the hardware store, or even run out of time to complete the job, leaving your kitchen and home in disarray for weeks.

Is Cabinet Painting a DIY Project?
You may check out Pinterest and think you can try painting those cabinets yourself. While it is possible, you may want to reconsider hiring a professional. Here's why:
Materials – Cabinets come in various materials, from solid wood to laminates and composites. Knowing how to prep the surface and the right products to use is tough for an amateur. Not only that, getting all the materials you need in one trip can be tricky if you are not experienced.
Experience – Without the proper expertise, your project could take twice as long as it should and end up looking less than professional. Professional cabinet painters have the process down pat. They know what works best, and it shows in the results.
Time – Between prep time, drying time, and cleaning time, your cabinet painting project could take more than a week to complete. Come on; the holidays are fast approaching! Don't you have enough to do shopping, cleaning, and decorating? Let the pros handle it.
Convenience – When you hire a professional, not only will they do all the prep work, but they will also do the cleaning up. Also, it might take 2-3 days to get the job done when the pros get there. It could take a lot longer if you decide to do it yourself. Do you want your kitchen in a state of upheaval for that long?
Money – Although painting your cabinets might seem the least expensive option on paper, think it through. When you break it down by the time you will have to spend, buying all the materials, leaving room for error, and the lifespan of the paint job, more than likely spending a little extra now to save time and money later will seem like the best option.
Let's Get Ready!
Reduce stress and make your kitchen more presentable by calling experienced cabinet painters.
We are a family-owned and operated painting company in business since 1983. Proudly serving O'Fallon and many other cities in St. Charles, St. Louis, Jefferson, and Franklin counties, you can trust our professional cabinet painting team to deliver complete satisfaction.
The HBP Painting Contractors' tried, true painting process ensures that every project is done correctly.
Let us make your cabinets look new again while you prepare the rest of the house for the holiday season. Contact us today for a free consultation.
Watch our Cabinet Painting Video
Browse Our Cabinet Painting Gallery
Cabinet Painting by HBP Painting Contractors
Frequently Asked Questions
Is It Better to Brush or Roll Paint on Cabinets?
While a roller can speed up the painting process, a brush can help you get into the hard-to-reach spaces and corners. You will most likely need a combination of both to complete the job.
Often, professionals will paint cabinets using a sprayer because it is quick, efficient, and creates a highly durable finish. But using this type of equipment takes practice.
How Do You Get the Smoothest Finish When Painting Cabinets?
Following all the essential prepping steps is the key to a smooth finish when painting your cabinets.
Before your final coat of paint, gently sand your cabinets using 300-400 grit sandpaper, apply the primer, then lightly rub again. Keep your work area clear of dust and debris, and allow your cabinets to dry thoroughly before applying the next coat of paint.
Can I Paint Over My Kitchen Cabinets?
Yes, you can. But keep in mind that even when painting over your current kitchen cabinets, you will still need to prep the surface area by cleaning and sanding.
What Do Professionals Use to Paint Cabinets?
Professional cabinet painters often use the highest quality lacquer or urethane paints for cabinets. Lacquer is the most challenging drying paint on the market, and urethane is a durable and long-lasting option.
HBP Painting Contractors uses the finest paints from Sherwin Williams on all of their cabinet painting projects.
Cabinet Refacing vs. Painting, What's the Difference?
Unlike simply painting the cabinets, cabinet refacing replaces all the parts people can see, like the doors, hinges, drawer fronts, and handles. This is a good option if the cabinet doors are in too bad of condition to be reused or if you want to change them out completely.
Related Resources
For more information on the topic, check out these related articles.