How to stain a deck is a commonly asked question. A deck attached to a home's exterior is an extension of the house that provides additional outdoor space to enjoy and relax during the lazy days of summer. But it needs to be maintained to remain functional and aesthetically appealing; this typically requires stain.
Staining a deck brings out the rich colors and texture of your wood's surface. Exterior wood stain can not only enhance your deck's appearance but can provide protection for outdoor elements and prevent warping.
Staining or painting a deck annually is strongly advised for the best protection. When done correctly, this coating can help to prevent wood rot from moisture, excessive drying, and fading from the sun. Plus, it will keep it looking great through all four seasons.
Table of Contents
Proper Deck Staining
There is a process for staining a deck that should always be followed. Slapping on a coat of stain without proper preparation will waste time, energy, and money. Appropriate steps must be taken to achieve the best and longest-lasting finish.
This is why it is best to hire a professional who knows the steps and has experience putting them into action. Although many small details are needed, the basics of the process are:
Clean – Dirt and debris accumulate on the deck and absorb into the material. To completely clean it, power should be used. The high pressure will remove all built-up grime.
Repair – Any cracked or broken planks should be repaired or replaced.
Sand – Sanding down the surface helps to create a smooth finish, so the results are unblemished.
Stain – The stain can be applied to the clean, sanded deck.
How to Stain a Deck
Once you have followed the necessary cleaning, repair, and sanding steps, your deck is ready to stain. Ensure you are prepared with all the proper equipment before the staining process.
Materials You Will Need
Some people may choose to skip a few of these items. But for the best outcome and your safety, the following materials are suggested.
Hand rags

Cleaning solvents

Plastic and tape

Stain applicator

PPE such as safety glasses, respirator, nitrile gloves
After the job is complete, ensure any oil-soaked rags are rinsed with water and laid to dry before you throw them away, as they can be a fire hazard.
Types of Applicators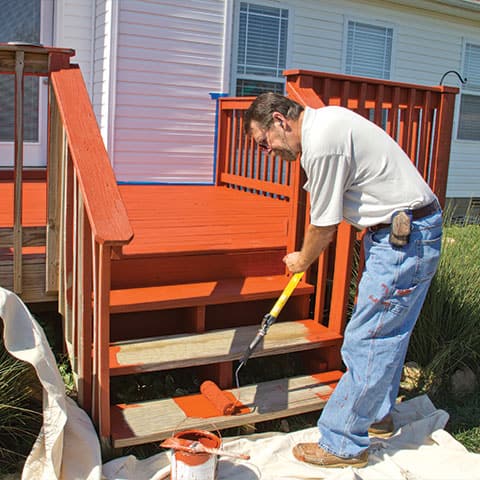 When it comes to applying stain to your deck, there are a lot of options to choose from. Often the best choice is the one you are most comfortable with, but each has its benefits. Stain applicator options include:
Roller – A roller will help you finish the job quickly and give your deck a smooth look. It is an efficient way to stain a large area.
Brush – A broad paint brush can apply stain over a large area with uniform coverage. A small brush is necessary to get the stain into corners and other hard-to-reach places.
Staining Sponge – A sponge can give you control over how much stain is applied. It is suitable for areas like railings and gaps between boards.
Paint Pad Applicator – This tool is a padded applicator attached to a pole and is an easier option than trying to brush stain onto a large deck by hand. The pad applicator will give you an even finish and good coverage.
Airless Paint Sprayer – This option will apply the stain quicker than the other applicator options discussed. However, remember that this technique requires expertise to get the job done correctly.
How to Apply Deck Stain
Once you have prepped the deck and chosen your applicator tools, it is time to start staining! A few tips and tricks can ensure your stain looks great and stays that way all year round.
Check the weather; most finishes need 24-hour curing before rain exposure.

Work with the wood grain and apply an even coat when applying the stain.

Avoid staining in midday or direct sunlight.

Wait 4 hours between applications if more than one coat is required

Depending on the humidity and temperature, wait 24 to 48 hours after the last coat before you begin using your deck
Restaining vs. Refinishing
People often need clarification on the difference between restaining and refinishing. Although many people interchange these terms, they are two different processes.
How to Restain a Deck
Restaining a deck entails cleaning and sanding the area without stripping the previous stain.
In most cases, this would be the correct process if you want to keep the same stain color previously used and not too much damage has occurred to the deck.
How to Refinish a Deck
Refinishing a deck consists of stripping off the existing stain and starting completely from the beginning of the staining process.
For this type of project, you will need the help of a stain stripper. This is the best choice if you want to stain your deck in a different color or finish.

DIY or Professional Deck Staining
Anyone can purchase deck stains at any hardware store and attempt to stain their deck. While it can be a DIY project, going with a local painting contractor has advantages.
Experience – As with any DIY project, the amateur doing the job is very limited in knowledge. They likely have only stained their deck or helped friends or family do theirs. That means that the result will be of lesser quality than if a professional was hired.
Time – Most homeowners try to fit in DIY projects on weekends or evenings after a full day. That cuts into leisure time that could be better used doing something enjoyable. Also, the project may drag on for several days, whereas a pro will finish it in a few hours.
Tools and Materials – Most homeowners don't own a power washer or industrial sander. These tools are needed to do the preparation and get the best results. Pros also know and use the best products for the most successful outcome.
Insurance – Hiring a licensed, bonded, insured professional will limit homeowner liability. The contractor's insurance will cover any injuries or damages.
Go With the Pros at HBP Painting Contractors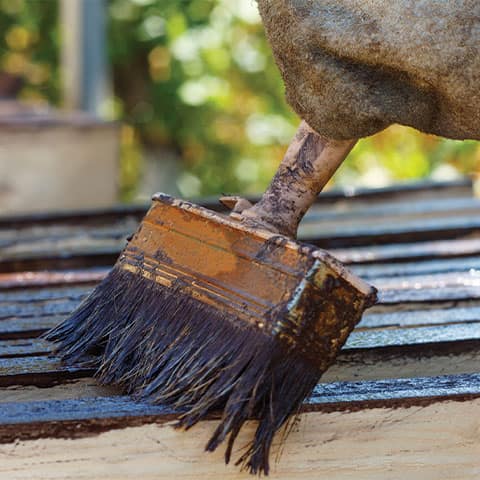 We specialize in deck staining. They have the knowledge, experience, and tools to successfully stain or paint any deck or wooden surface.
That includes fences, pool decks, porches, and attached home decks.
HBP Painting Contractors only use the best deck stains with high-quality color and long-lasting protection.
At the homeowner's request, HBP Painting Contractors will stain or paint the deck floor, stairs, handrails, spindles, ceilings, and underneath, giving you a professional look every time.

About HBP Painting Contractors
HBP Painting Contractors is located in O'Fallon, Missouri, in St. Charles County, west of St. Louis. We have satisfied customers in the area for over 30 years.
Your experience is our priority. We proudly provide our painting and staining expertise, color help, and full-time office support.
Besides deck staining, we offer residential and commercial painting (interior and exterior), cabinet painting, floor staining, power washing (residential and commercial), driveway sealing, wallpaper removal and hanging, popcorn ceiling removal, and concrete staining/painting.
Still not convinced that you need a professional to stain your deck? Here are 10 Benefits of Hiring Professional Deck Stainers. Then get started with your free estimate, and together we can give your deck a protected, polished look that will keep through all the seasons.

Watch Our Deck Staining Video
Browse Our Deck Staining Gallery
Frequently Asked Questions
What Is the Best Way to Apply Stain to a Deck?
The best way to apply stain to a deck is to work with the grain. Ensure you have properly prepped and cleaned the area, and pay close attention to your brush strokes; they should go the same direction as the wood grain.
Is It Better to Brush or Roll Stain On a Deck?
The better option is usually your personal preference. However, using a roller for staining will speed up your process. A brush will still be needed to get the small, hard-to-reach places, though.
What to Do Before You Stain a Deck
Before staining a deck, ensure the area has been properly prepped and cleaned. Removing any deck furniture, replacing old boards, and sanding the space are necessary before applying the stain.
How Do I Stain My Deck Myself?
Staining a deck yourself is possible but takes a lot of work. You will need access to or purchase the equipment, thoroughly prep the area, and understand the best application process for the stain.
How Much Stain Do I Need For My Deck?
Different products may need different amounts of coverage. The label on your choice of stain should list how many square feet you can cover with one gallon.
Related Resources
Here are a few related resources on this topic.