Does your house need a new coat of exterior paint? Is the paint flaking or fading, or do you want to change the color scheme? No matter the reason, a new exterior paint job can improve the looks of your home and enhance its curb appeal. Also, a professional paint job can extend the life of your siding and trim and increase the home's value.
This fresh post covers the necessary steps and helpful tips on exterior house painting. Are you thinking of doing the job yourself? Painting your home's exterior surfaces and trim can be a big job. It requires lots of time and effort; it will look shoddy if it's not done right. That's why HBP Painting Contractors recommends you hire us for all your house painting needs.
Table of Contents
The HBP Exterior Painting Process
Preparation and experience are the keys to a professional paint job. You may not realize all the steps necessary to get quality results from your exterior paint project.
We've listed them here to inform you what the professionals do to achieve success. And as a warning that if any steps in the process are skipped, you may not like the outcome.

1. Get All the Materials and Tools.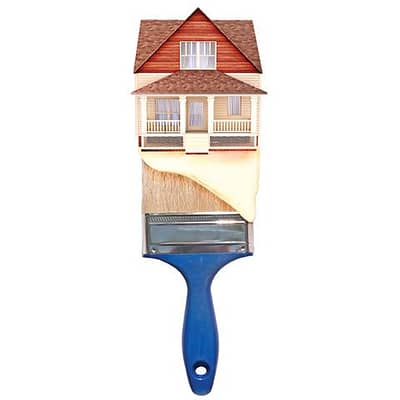 Before you even start, it's best to make sure you have everything necessary to complete the project from start to finish. You don't want to stop and go to the paint or hardware store for something you forgot.
Whether spraying, rolling, or brushing, buying high-quality tools is another critical factor in getting the professional paint job you seek.
Some items you'll need include:
Primer
Exterior paint (flat or eggshell plus exterior semigloss)
Pressure washer
Paint sprayer
Paintbrushes and rollers
Painter's tape
Drop cloths
Plastic sheeting
Ladder
Paint scraper
Epoxy filler
Medium-grit sanding block
Putty knife
Exterior caulking
Caulk gun
Make sure you purchase enough of each item for the square footage of your house. Also, you may need more than one ladder, or even scaffolding, if you have a two-story house.
Remember that high-quality paint can reduce the number of times you will need to paint your exterior over the years. Plus, it will give you better coverage overall, meaning fewer coats will be required.
Another painting tip is to buy more paint than you think you'll need and mix all the paint cans into one big 5-gallon bucket. This will help ensure that all of your paint is the same shade and that the exterior of your home will have a uniform color throughout.

2. Clean Surfaces & Repair Damages
As you know, preparation is essential for a big job, so we included a few exterior painting preparation tips to help you better understand the process.
Paint does not stick well to dirt or rough surfaces. The paint will adhere better and go on smoother on a clean surface. Use a pressure washer to remove debris, dirt, and dust—work from top to bottom, overlapping each stroke for full coverage.
With a putty knife, you'll also need to fill in any nail holes, gouges, or cracks with wood putty or epoxy filler. Look for fast-drying fillers so you don't have to wait long to start.
Allow the epoxy to dry, then sand the surface. Sanding will even out the wood and filler, leaving a smooth surface. This soft, sanded surface will allow the primer and paint to adhere correctly.

3. Check the Weather
Weather and time of year are significant factors when painting the exterior of your home. Plan, choose a dry time of year, and check the weather before you start.
Waiting may be necessary if rain or high humidity is in the forecast. It is also important to note that you should not apply latex paint if the temperature is under 50 degrees unless the latex paint states explicitly that it is ok.

4. Protect the Surrounding Area.
Use drop cloths and plastic sheeting to protect landscaping, outdoor furnishings, or other items that can't be moved in the paint area. Don't forget to cover windows, doors, and light fixtures! You can also use painter's tape to keep paint from getting on the trim.

5. Scrape off Loose Paint.
Use a metal paint scraper or scrub brush to remove any chipped paint. A wire brush or pressure washer may do the trick for larger areas.
You may need to sand down these scraped surfaces afterward.

6. Fill in Cracks.
You'll need to caulk the gaps between the siding, trim, and around doors and windows. Caulking improves the paint job's quality and helps extend the life of your exterior paint.
Cracks and holes tend to collect water, which can cause the paint to peel over time. You can reduce the amount of accumulated water on your home's exterior by caulking these areas. Make sure to paint the caulk and the rest of the house during the priming and painting steps.

7. Prime if Needed.
Primer is not always needed; for example, if you're repainting with the same or darker color. However, going to a lighter shade will need a coat of primer. Primer can also cover a stain that could not be removed during cleaning.
You can use the paint sprayer to apply the primer; however, because of its thickness, you may need to thin it out for a more straightforward application.

8. Paint the Siding.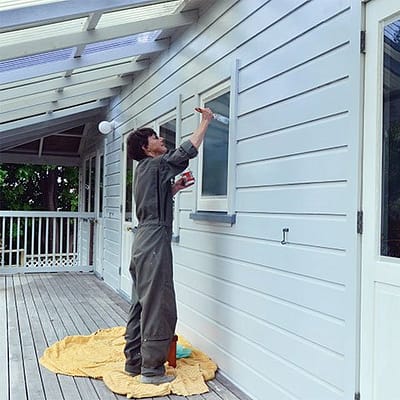 A few exterior painting tips can help the job go a little smoother. Fill the paint sprayer with the flat or eggshell exterior paint and spray from top to bottom, overlapping each stroke. Painting from top to bottom will help control streaks. You want to work with gravity instead of against it.
Depending on the color of the paint, you may need multiple coats. Brush and lap marks can often be fixed or covered with a second coat.

9. Paint the Trim.
Once the painted siding is dry, remove the sheeting and painter's tape from the windows, trim, and doors. Apply two coats of exterior semigloss paint to the trim with a paintbrush.
The sheen is the main difference between the flat or eggshell paint for the siding and the semi-gloss for the trim. Matte and eggshell have just a tiny amount of shine, while the semi-gloss reflects a lot of light.
This contrast between the two will give your home a professionally painted look.

10. Clean Up!
Once every exterior surface is painted, it's time to clean up the area. Remove any drop cloths that cover non-painted items or sizes. Clean up any spills. Remove all tools and materials from the worksite.

Common Problems to Avoid
Lap Marks
Lap marks are the darker areas that happen by painting over dried paint. To avoid these, work quickly and in small sections so the previously painted area stays wet until you can brush the newly applied paint into it. This helps blend the old unit and the new team seamlessly.
If lap marks happen on the first coat, the second coat will usually cover them up.

Brush Marks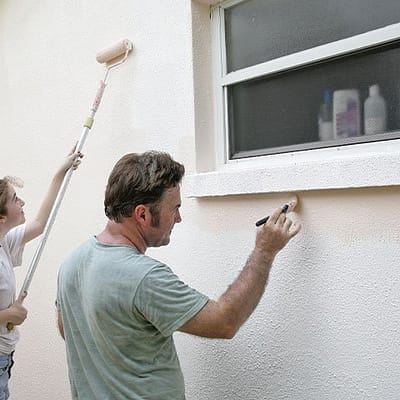 Brush marks are areas where you can see where the brush stopped or started during its stroke. To avoid this, start every brush stroke in an unfinished room, at an edge, or against the house's trim.
Stopping the brush and lifting will leave extra paint, making the surface uneven and showing the brush marks. A professional technique is to brush toward a finished area and sweep the brush up and off the wall in the same motion.

Drips, Runs, and Sags
These often happen inside corners and edges where the paint can build up and drip. If you find drip marks that have not started to dry, you can brush them out.
If the drip marks have already started drying, let them dry. Once dry, sand down the drip spots, then paint them with a fresh coat.

Why You Should Hire a Professional Exterior House Painter
If you're still considering a do-it-yourself paint project, you may want to read on for additional reasons to hire a professional instead.
Quality – Professional painters are trained and experienced in the proper prep and techniques of the trade. They use suitable materials and the best quality paint to achieve the best results.
Time – Painting the exterior of a house is not a small project. It will drag on for days or weeks if you can't dedicate yourself full-time. Often, for DIYers, it could take an entire summer to prepare and paint just a medium-sized house. A professional team of expert painters works the whole time to finish the job more quickly.
Materials – A professional painting contractor already has all the tools needed to do the job and brings them to the job site.
Disruption – It will always take an amateur much longer to finish a project than a team of professionals. That means your home will be in a state of upheaval.
Liability – A licensed and bonded professional paint contractor is insured against any damages or injuries.
Hire the Experts for Your Exterior House Painting
HBP Painting Contractors is a family-owned and operated painting business that has been around since 1983. We are proud to be one of the best-rated painting companies in O'Fallon and the surrounding cities. Your experience is our priority. Our friendly experts will ensure your project is completed to your satisfaction.
When you hire HBP Painting Contractors to paint your home's exterior, you can be confident you'll get the results you expect and deserve. We guarantee all our paint projects for a full three years. If you're unsatisfied with the results or something goes wrong during that period, we'll do it.
Call us for a free estimate for your next exterior house painting project.

Frequently Asked Questions
Is It Better to Roll or Brush Exterior Paint?
The short answer – is neither. Because of the large surface area that must be painted, it is often better to use a sprayer to paint your home's exterior. Rolling and brushing can be a lot of work.
But if you choose to forgo the sprayer, a labor-intensive combination of rolling and brushing will be necessary.
Can You Paint Over the Existing Exterior?
Yes, you can paint over your home's existing exterior paint, but it can be time-consuming. You will still need to clean and remove all the flaking paint first.
You may also have issues if you use a lighter color than the previous one you are trying to paint over. It is best to follow the proper painting steps, including using a primer if you want a professional-looking paint job.
How Do You Paint Exterior Like a Pro?
To paint like a pro, you must ensure you have all the right equipment, know the proper steps, and are skilled in the necessary painting techniques.
However, the best tip for painting outside your house is to hire professional exterior house painters like HBP Painting Contractors to do the job for you.
Related Resources
For more professional resources, check out the articles listed below.